Chrysanthus and Daria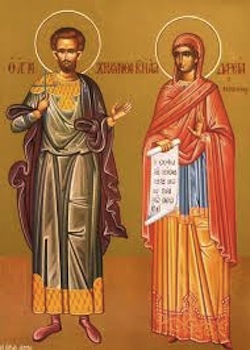 When Stephen, the first martyr, was stoned to death in c. 33-35 AD until the Edict of Milan in 313 making Christianity a legal religion, hundreds of thousands of Christians were torn to pieces and eaten by wild animals, were beheaded, clubbed to death, scraped to death, burned to death, and killed in other diabolical ways. But of the myriads killed in those almost 300 years some have emerged as  special. They are called Saints by the Catholic Church because of their path to martyrdom, their type of martyrdom or their inspirational martyrdom. Every man, woman or child who was killed just because they believed there was One God and that His Son Jesus Christ rose from the dead is an heroic person. But there was in the Early Church particular devotion to certain people who suffered martyrdom. Peter and Paul, killed in c. 64-67, were especially regarded as holy by the first century Church. Each century has its martyrs who touched the hearts of the people and were subjects of particular veneration. A young man, Chrysanthus, and a Vestal Virgin, Daria, were two people in the third century who have been honored ever since their martyrdoms in c. 283-284.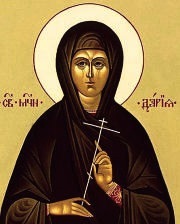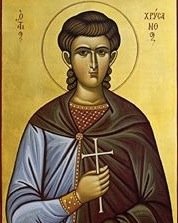 Stories of the lives and deaths of the martyrs are often    disregarded by historians, and even by            some in the Catholic and Protestant Churches as myths, legends and fibs. The story of Chrysanthus and Daria was one of those "myths" until recently. Chrysanthus was reared in a wealthy Roman pagan home. When a teenager, he was converted to Christ much to the consternation of his father who tempted him to be sane and pagan again by marrying a beautiful Vestal Virgin named Daria. The Vestal Virgins in Rome took vows of chastity for 30 years and were recruited into the priestess-hood when they were 8-10 years old. Their job was to tend the sacred fire that kept Rome vital.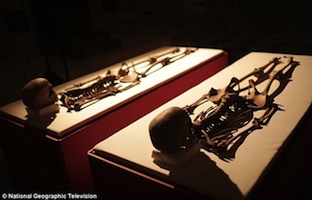 Daria, however, under the influence of Chrysanthus became a Christian, too. They decided to marry, remain celibate and spend their lives telling Romans about Jesus of Nazareth. Thousands flocked to these two young, charismatic evangelists and were converted. Finally, the State intervened, imprisoned them and…..That's when several different story lines diverge. Some stories have them stoned to death. Others have him beheaded. But the preponderance of stories have them both buried alive in a sand pit (catacomb) on the Via Salaria. That is likely true because the old Roman Martyrology says: "At Rome the triumph of Saint Chrysanthus and his wife, Saint Daria, Martyrs. After several torments which they endured for Jesus Christ under the Prefect Celerinus, they were condemned by the Emperor Numerian (reigned 283-284), to be thrown into a sandpit on the Salarian Way and buried alive there under a heap of earth and stones." Their bones were disinterred in the 4th century and travelled here and there until they came to rest in the c. 900's in the cathedral in the town of Reggio Emilia in northern Italy.—Sandra Sweeny Silver