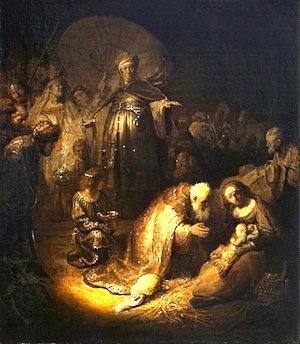 Many famous paintings and most people for the last 2,000 years imagine the Wise Men, the Magi, coming to the stable to offer their adoration and gifts to the newborn Jesus. But the Bible does not say that. In the Greek, Matthew 2:11 specifies: "And having come into the house, (the Magi) found the little child with Mary, his mother, and having fallen down did homage to him." The Greek uses the word oikos meaning  "house, building" to denote the location of Jesus and Mary and uses the word for "young child" (paidion) to denote the approximate age of Jesus. Two of the four paintings of Jesus and Mary in the catacombs show Jesus as a toddler (16-24 months) or as a young child.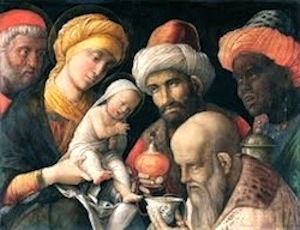 The Greek uses the word brephos meaning an "unborn or newborn" baby to denote the infancy of Jesus in the manger passage (Luke 2:15, 16). In contrast, when the wise men arrived, Jesus was a paidion, a "young child" and the family was living in a house not in a stable.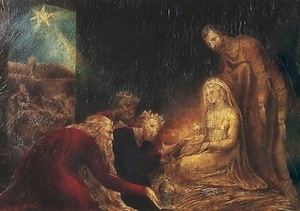 The Magi were the first Gentiles to acknowledge and to worship Jesus, but they did not arrive until Jesus, Mary and Joseph had found lodging in a house in Bethlehem. The only beings at the birth of Jesus were Mary, Joseph and the animals, if any, that shared the stable/cave with the family. On the night Jesus was born, however, an angel announced the birth of the Messiah to a group of shepherds:
"And there were shepherds living out in the fields nearby, keeping watch over their flocks at night. An angel of the Lord appeared to them, and the glory of the Lord shone around them, and they were terrified. But the angel said to them, 'Do not be afraid. I bring you good news of great joy that will be for all people. Today in the town of David a Savior has been born to you; he is Christ the Lord. This will be a sign to you: You will find a baby wrapped in cloths and lying in a manger'….So they hurried off and found Mary and Joseph and the baby who was lying in a manger." Luke 2:8-12,16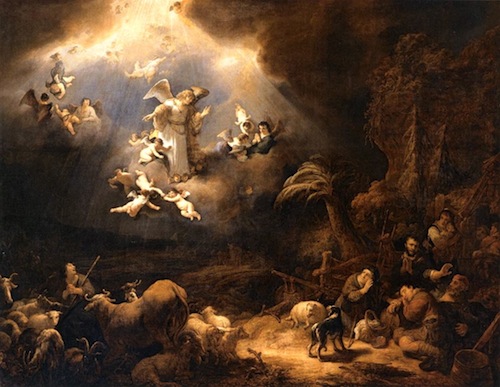 Sheep were only tended at that time of year and near a town if the sheep were destined for sacrifice at the Temple services. The Temple-appointed shepherds who left their doomed flock and hurried through the dark to the cave/barn to see the heaven-announced baby found Him lying in a manger, a feed trough for animals made of clay and straw.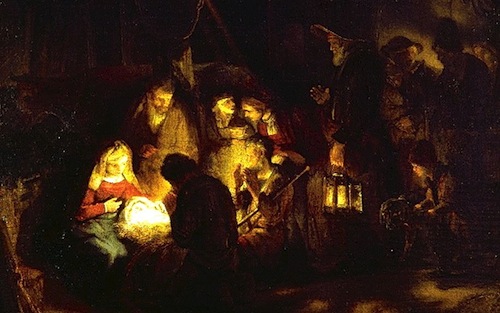 The only people who came to see the Good Shepherd on the night He was born were shepherds who tended sheep intended for sacrifice. The symbolism reverberates.—Sandra Sweeny Silver