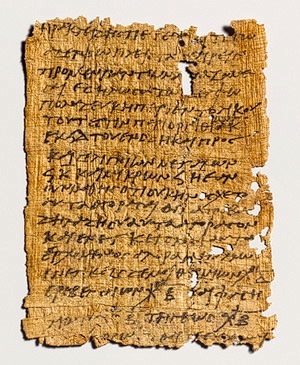 The ancient Greco-Roman personal letter began with the statement of the name of the sender and the person, persons to whom the letter was addressed: "Apion to his father Epimachos." Then there was a formal salutation (from Latin word salutare, salus literally meaning "wish health to"): "Greetings and may you be healthy." Maintaining physical health was very important to the people in the ancient world when the average age of death was between 35-40. Following the greeting was the body of, the reason for the particular letter. The closing of the letter usually ended with "I wish you to be sound and healthy" or "Fare well." CLICK FOR ARTICLE ON LONGEVITY IN THE ANCIENT WORLD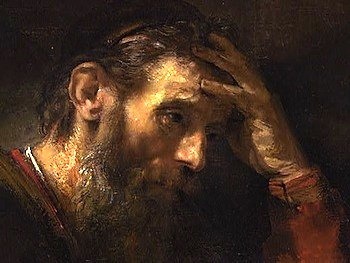 The Apostle Paul who wrote two-thirds of the New Testament in epistle form employed yet embellished and expanded upon the Greco-Roman model of his day. Paul wrote 14 letters. At the beginning of 9 of the 14 letters Paul identified himself as an "Apostle of Christ. "Apostle" means in Greek "to send." Frequently in his opening address this Sent One called himself a doulos, meaning in Greek a "slave" for Christ: "Paul, a doulos of Christ Jesus" in Romans 1:1; and in Titus 1:1 "Paul a slave of God and an apostle of Jesus Christ." In very few ancient letters do any of the senders identify himself or herself so strongly with a deity and certain it is that none of them would have identified themselves as the lowest rung on the ancient world's ladder–a slave.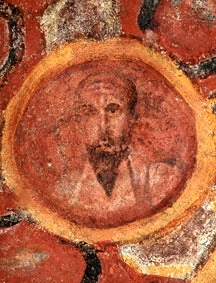 Rather than just say, "Paul to the church in Rome or Corinth" as would have been the form of the day, Paul taught his recipients as he addressed them: "To all in Rome who are loved by God and called to be his holy people." (Romans 1:7) "To the church of God in Corinth, to those sanctified in Christ Jesus and called to be his holy people, together with all those  everywhere who call on the name of our Lord Jesus Christ—their Lord and ours." (I Corinthians 1:2,32 ) His letters are didactic rather than just informational. The body of Paul's letters make up much of the theology of the Christian Church. One always sees the love and care Paul has for the people in the churches he established. In his personal letters to Timothy and Titus, one feels the tenderness of a good father. This kind of love is noticeably absent from ancient letters.
Even though his letters are brilliant and show a first-class mind ontologically and theologically, Paul digresses occasionally to personal things: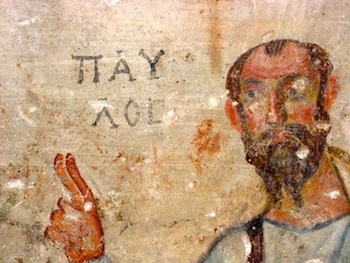 "And lest I should be exalted above measure through the abundance of the revelations, there was given to me a thorn in the flesh, the messenger of Satan to buffet me, lest I should be exalted above measure. For this thing I besought the Lord thrice, that it might depart from me. And he said unto me, My grace is sufficient for thee: for my strength is made perfect in weakness. Most gladly therefore will I rather glory in my infirmities, that the power of Christ may rest upon me. Therefore I take pleasure in infirmities, in reproaches, in necessities, in persecutions, in distresses for Christ's sake: for when I am weak, then am I strong." 2 Cor. 12:7-10 KJV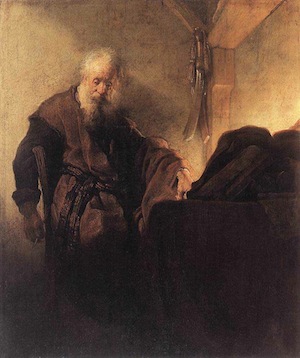 Paul's "thorn in the flesh" has been a subject of debate over millennia. Maybe there was a residual eye problem as a result of his conversion experience when he was struck blind by God and later received a healing. (Acts 9:1-19)  We know from Romans 16:22 that Paul did not write that long letter to the Romans: "I, Tertius, who wrote down this letter, greet you in the Lord." In II Thessalonians 3:16,17 we read, "The Lord be with you all! I, Paul, write this greeting with my own hand, and this is a distinguishing mark in every letter; this is the way I write." And to demonstrate further that Paul really had trouble seeing and writing, he says in Galatians 6:11: "See what large letters I use as I write to you with my own hand!" So Paul dictated his letters and did have a problem with his eyes, but that may NOT have been his "thorn in the flesh." The scholar J.B. Lightfoot and other scholars think Paul's thorn was  epilepsy based on several verses in his New Testament letters: e.g. Galatians 4:13-15. However handicapped, Paul through Tertius and other amanuenses was a very productive slave for his Master.
The endings of Paul's letters diverge completely from ancient Greco-Roman endings  which appear to modern eyes to be void of any "I love you's" or "My love." Only a handful of ancient letters display Paul's love and affection. Paul ends his letters with "Greet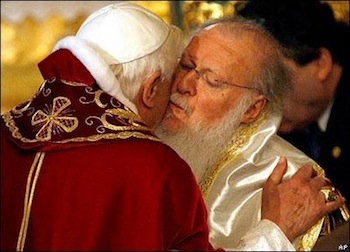 one another with a holy kiss" in II Corinthians 13:12 and I Thessalonians 5:26. In Ephesians 6:23,24: "Peace to the brothers and love with faith from God the Father and the Lord Jesus Christ. Grace to all who love our Lord Jesus Christ with undying love." Love and concern and affection leap off the pages of Paul's non-classic benedictions. Perhaps our modern written letters follow some of the classic beginnings with "Dear Ruth," or "Dear Wayne." But we at least have the affectionate "dear" in front of their names. Most of our world, post Christ, have followed Paul's pattern and written personal letters that show emotions and love as well as conveying important facts and information.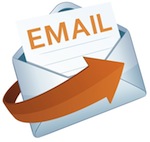 The emails (letters) of the computer world are a different story. Beginnings: "Hey," "s'up." And 92% of the time they are not signed. The bodies of your virtual reality emails are short and sweet unless you are, like me, a "wordy" person. And your daily correspondence is deleted. But, think about it. How will future historians who rely so much on personal letters for their books of famous people compose their biographies now that letters and diaries are almost obsolete? Oh, right, they'll have scripted TV interviews and movies and videotapes OF the famous persons and be able to write from them. Really? And you will someday, if the Lord does not return soon, be a great-grandfather or great-grandmother and there will be no trace of you because you don't write letters anymore and no one really CARES who you are except maybe a young man or woman in the distant future who will wonder about you and maybe have a wrinkled and unflattering picture of you and—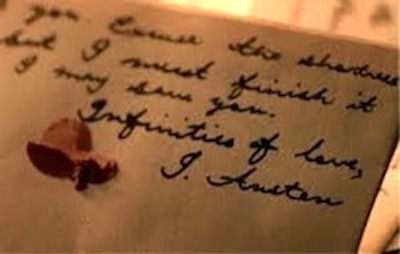 Who's going to keep the archives of pictures you have in your phone and on your computer for 25 years let alone 125 years? How will they remember you, have an inkling of who you were or who the great among us were? Maybe I should have titled this article "A Requiem for Letters?" It was once told me, Sandy, don't ever marry a man unless you have received letters from him because that's the only way you'll really know him. I have received letters from the man I'm married to and they are very revelatory about him and our relationship. Maybe I should burn them?—Sandra Sweeny Silver
See below the critical importance of words written with stylus, quills or pens on paper, papyrus or parchment for our knowledge of people, places and events in the history of the world.